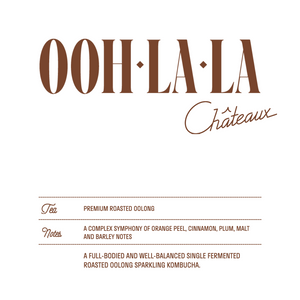 OOH-LA-LA
A premium sparkling kombucha brewed from specially curated roasted oolong tea leaves. 
This delectable sparkling kombucha boasts of a complex symphony of orange peel, cinnamon, malt and barley notes. 
A longer fermentation of 10-12 days gives Ooh-La-La a full-bodied and well-balanced taste. Savour the difference from the very first sip until the very last. The alluring aroma and fruity end note will leave you asking for more.
Try it now and join the many fans it has won over during its product testing phase. 
Available now for Subscription (15% off Regular Price) & One-Time purchase.
Ooh-La-La    Premium 6-Pack 49.90
6 X 330ml Ooh-La-La Premium sparkling kombucha
Half & Half   6-Pack 44.90
3 X 330ml Ooh-La-La Premium sparkling kombucha
And your choice of:
3 X 330ml - All that Jas (Bestselling flavour)
3 X 330ml - Bohemian Raspberry, Basil Blues, Purple Rain (The Reds)
3 X 330ml - Couture Passion, All that Jas, Goldginger (The Yellows)
NOTE TO SUBSCRIBERS: You can swap between the Signature Set and the Ooh-La-La Premium Brew.
Simply log in to your Store Account or click on "Manage My Subscription" when you receive your pre-delivery notification and make the changes. Alternatively, send us a Whatsapp and we will make the changes for you!
Thank you for the lovely Kombucha! It was gone in 2 days! Especially loved All That Jas! and Basil Blues! Was such a perk-me-up after a busy day working from home! Gonna check out your new mid-autumn set!
Lizhen Q.