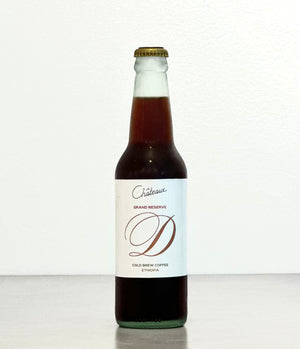 Cold Brew Coffee
Introducing Our Premium Cold Brew Coffee 
If you're a coffee lover, you'll enjoy our exclusive line of cold brew coffees made with 100% specialty Arabica beans.
Crafted with precision, our cold brew coffee is steeped in cold filtered water for over 24 hours, allowing the unique flavours of our specialty beans to shine through without any harsh bitterness.
Savour the smooth and sweet notes of our coffee, whether chilled or at room temperature – it's your perfect well-deserved indulgence.
Our 2 Special Reserve Cold Brew Coffees offer distinct flavours to pair with any meal or occasion. Check them out below.
Reserve 'D' 
A unique sensation crafted from selected medium-roast Ethiopia Arabica beans. Cold-brewed to produce a bright coffee with lingering notes of ripe cherries, stone fruits and a hint of caramel.
Reserve 'R'
A full-bodied coffee brewed from a blend of Arabica beans sourced from regions of Brazil and Ethiopia. It has distinct notes of dark chocolate, and hints of vanilla and cloves that pair exceptionally well with desserts.
Thank you for the lovely Kombucha! It was gone in 2 days! Especially loved All That Jas! and Basil Blues! Was such a perk-me-up after a busy day working from home! Gonna check out your new mid-autumn set!
Lizhen Q.