2023 HOLIDAY Special Edition Gift Sets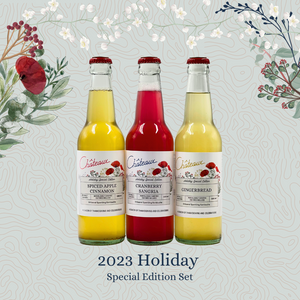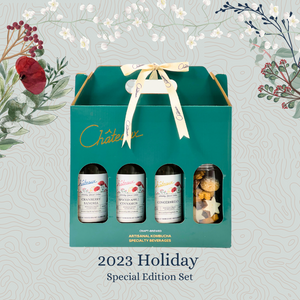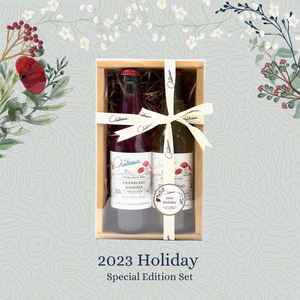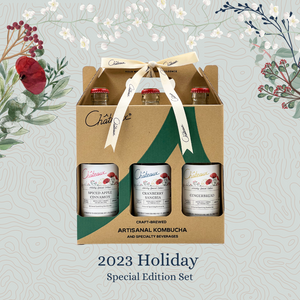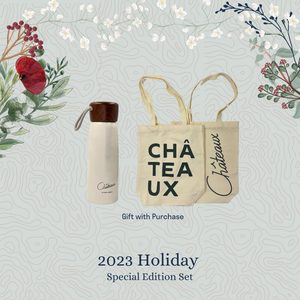 Show your appreciation to your loved ones with our HOLIDAY Special Edition Gift Sets!
3 delectable Holiday kombucha flavours crafted generously with premium ingredients for our discerning customers.
SPICED APPLE CINNAMON (330ml) A delicious blend of apple, cinnamon and exotic spices. A Châteaux bestseller with a sophisticated twist this time.
CRANBERRY SANGRIA (330ml) A rich blend of fresh cranberries, oranges, apples and herbs. Boldly-crafted for the festivities.
GINGERBREAD (330ml) An all-new flavour of cinnamon, cloves, ginger and organic vanilla. A perfect warm and cozy year-end indulgence.
CHRISTMAS COOKIES (120g) Made from high-quality ingredients from award-winning bakery, the assorted cookie flavours include Speculoos, Honey, Mailanderli Butter, Bruenzli Cinnamon Star, Graham Tree, Leckerli, and Snow Almond. Perfect for this festive season!
In line with the spirit of giving, 10% of the proceeds will be donated to a charitable cause as part of the Châteaux Gives Back initiative.
GIFTS WITH PURCHASES Spend above $60 to receive a limited edition Châteaux Tote Bag (worth $9.90). Spend above $120 to receive a limited edition Châteaux Tote Bag (worth $9.90) and a limited edition Stainless Steel Thermal Flask (worth $19.90). You may combine your orders of all the Holiday Special Edition purchases to qualify. (Each customer is limited to 3 sets of free gifts.)
Holiday Special Edition Gift Sets are available from 24 November to 22 December 2023.  
NOTE TO SUBSCRIBERS: Swap to the Holiday Special Edition 6-Pack during this Holiday season and swap back to other sets after that.
Simply log in to your Store Account or click on "Manage My Subscription" to make the changes.
Thank you for the lovely Kombucha! It was gone in 2 days! Especially loved All That Jas! and Basil Blues! Was such a perk-me-up after a busy day working from home! Gonna check out your new mid-autumn set!
Lizhen Q.